In recent years, solar energy has become increasingly popular as a clean and renewable source of power. Sunway Solar, a leading provider of sustainable energy solutions, has taken this a step further with our hybrid solar system. This innovative technology combines the benefits of both solar and traditional power sources to provide a reliable and efficient energy solution. With Sunway's hybrid solar system, businesses and hotels can enjoy uninterrupted power supply while reducing their carbon footprint and saving on energy costs. In this article, we will explore the features of Sunway's hybrid solar system.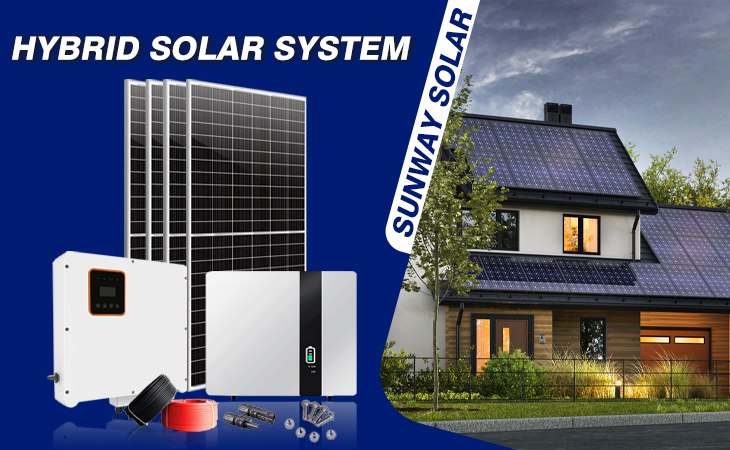 The Details of Sunway's Hybrid Solar System
At Sunway, we offer a hybrid solar system that combines solar panels and energy storage to provide reliable power even when the sun isn't shining. Our hybrid solar systems are designed to be scalable and can be customized to meet the specific needs of different customers.
Our hybrid solar system consists of the following materials:
A solar panel which is built to last, with a positive power tolerance of 0~+5w, and 100% EL double-inspection ensures modules are defect-free. We offer various types of solar panels including half-cell mono and poly solar panels.
A hybrid solar inverter which supports automatic battery switching and is compatible with lead-acid and lithium-ion batteries. The built-in MPPT solar charge controller helps regulate the charging process and the natural cooling feature makes it low-noise.
A solar battery bank which is designed to be easy to install and maintenance-free. With a long deep cycle lifespan, high discharge performance, and more than 6000 times, up to 90% DOD, our solar battery bank offers long-lasting backup power. We offer Agm, Gel, and Lithium Ion battery types with 2V, 12V, 48V, and high voltage battery options.
A solar mounting system designed for versatility, with options for ground solar mounting, residential roof (pitched roof), car parking solar mounting, vertical wall solar mounting, and commercial roof (flat roof and workshop roof). Our all-aluminum structure mounting system is ballasted mount, which does not harm the structure. Most parts are preinstalled, saving 50% of the labor force.
Our hybrid solar system accessories such as PV tools include a pin diameter of 4 mm, a degree of protection of IP67, a max system voltage of 1000 volts, a rated current of 30A(4m3/6m3), excellent resistance to UV, oil, grease, oxygen, and ozone, a high voltage and current carrying capacity, and IP 65-degree lightning protection.
With our top-quality solar panels, hybrid inverter, solar battery bank, solar mounting system, and solar system accessories, you can be sure that you have a system that is built to last.
Conclusion
In summary, Sunway Solar's hybrid solar system offers a reliable and scalable solution for your energy needs. Contact us today to learn more about how we can help you achieve energy independence with our hybrid solar system.