Sunway Solar, a leading provider of sustainable energy solutions, is delighted to introduce the 550w solar panel SW550M-144 Inmetro solar panel. Designed to maximize energy harvest and minimize power loss, we are committed to delivering exceptional products and services that meet the evolving needs of our customers. Let's explore the remarkable features of the SW550M-144 and discover why it stands out as the ultimate choice for efficient solar power generation.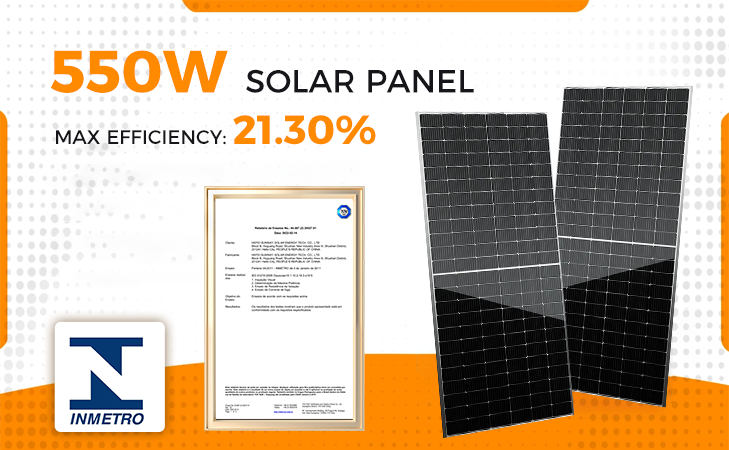 Exceptional Power Generation with Advanced Technology
At Sunway Solar, we harness the power of advanced technologies to ensure exceptional power generation and efficiency in our products. The 550w solar panel SW550M-144 incorporates our innovative Meio Corte design, which significantly reduces power loss and improves overall performance. Furthermore, MBB (Multi Busbar) technology enhances current collection, resulting in improved system efficiency and higher output. With PERC (Passivated Emitter Rear Contact) technology, the 550w solar panel SW550M-144 excels in cell performance, ensuring optimal energy conversion.
Sturdy Construction for Reliability and Longevity
Our commitment to quality is reflected in the sturdy construction of the 550w solar panel SW550M-144 solar panel. Featuring a tentop frame with an impressive 120N tensile strength, our panels provide robust support and protection against mechanical stress. To safeguard against moisture and environmental factors, our junction boxes incorporate TL QC Solar Full-Glue-Filled IP68 Waterproofness. Additionally, we employ waterproof labels and MC4 connectors to establish secure connections, ensuring long-term reliability and longevity.
Streamlined Factory Production and Packaging
Sunway Solar takes pride in our streamlined factory production and packaging processes. By optimizing pallet and container capacity, we enhance logistics efficiency while minimizing shipping costs, passing on the savings to our customers. Recognizing the importance of tailored solutions, we offer customizable packaging options designed to meet your specific requirements. Our unwavering commitment to quality control and packaging standards ensures that every 550w solar panel is manufactured and packaged to the highest industry standards.
Commitment to Quality Control and Packaging Standards
At Sunway Solar, we are dedicated to providing superior products and services that consistently exceed customer expectations. Our rigorous quality control measures are implemented throughout every step of the production process, ensuring that our solar panels meet the highest standards of performance and durability. By adhering to stringent packaging standards, we protect our products during transportation, guaranteeing their arrival in pristine condition for installation.
Conclusion
When it comes to maximizing energy harvest, Sunway Solar's SW550M-144 Inmetro solar panel stands as the unrivaled choice. With advanced technology, sturdy construction, and a steadfast commitment to quality, our solar panels deliver exceptional performance and reliability. From the Meio Corte design and MBB technology to the PERC cells and robust construction, every aspect of the 550w solar panel SW550M-144 is engineered to optimize energy generation. Trust in Sunway Solar's expertise, rely on our exceptional products, and experience the difference with our 550w solar panel. Embrace sustainability, reduce your carbon footprint, and maximize your energy harvest with Sunway Solar.