Sunway Solar is pleased to introduce our 30KW Solar System, a high-capacity energy storage solution designed to meet the demands of various applications. With the capability to handle 30kW to 150kW solar power output, this system offers exceptional reliability and quality. In this article, we will explore the advantages of our 30KW Solar System, including seamless integration with grid and generator power, smart monitoring and control features, and its suitability for demanding commercial and industrial applications.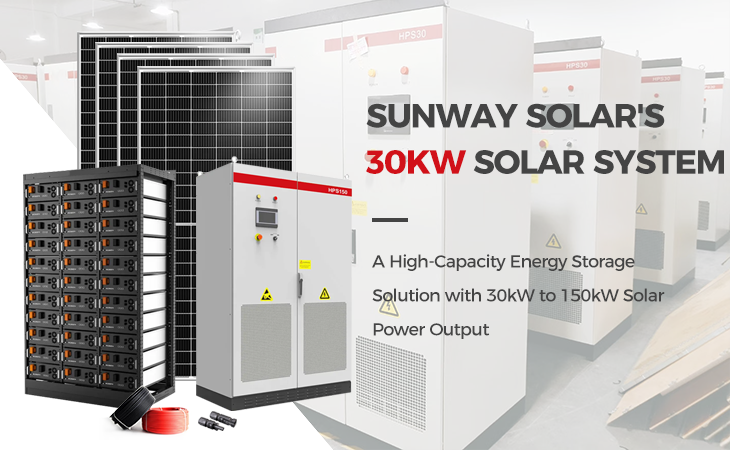 High Capacity Energy Storage System for Demanding Applications
Our 30KW Solar System is specifically designed to handle high capacity energy requirements. With the ability to manage 30kW to 150kW solar power output, it is suitable for commercial and industrial applications requiring significant power supply. Our company takes pride in providing reliable and high-quality products, which is why the 30KW Solar System is UL/TUV/CE/ISO certified. This certification ensures that our customers receive a robust and trustworthy energy storage solution that meets their specific needs.
Seamless Integration with Grid and Generator Power
At Sunway Solar, we understand the importance of flexibility and compatibility. The 30KW Solar System seamlessly integrates with both the grid and generator power, offering versatile options for our customers. The system features configurable AC/solar input priority, enabling optimized power utilization based on individual preferences. Whether you prefer to rely on mains voltage or generator power, our energy storage solution can adapt to your requirements. Furthermore, parallel operation is available, allowing for increased system capacity, ensuring scalability as your energy needs grow.
Smart Monitoring and Control Features for Optimal Performance
To ensure optimal performance and convenient management, the 30KW Solar System incorporates smart monitoring and control features. Our customers can take advantage of the WIFI/GPRS remote monitoring option, which allows for easy system management from anywhere. With the LCD setting, users can configure AC/solar input priority, providing flexibility and control over their energy usage. Additionally, the MPPT solar charge controller maximizes solar output, increasing the efficiency of energy generation. These intelligent features put our customers in command of their energy storage system, allowing for an optimized and customized experience.
Conclusion
Sunway Solar's 30KW Solar System energy storage solution offers a high-capacity and reliable solution for demanding applications. As a company dedicated to providing top-quality products and services, we are proud to offer this versatile system that seamlessly integrates with grid and generator power. With smart monitoring and control features, our customers have full control over their energy usage and can maximize the efficiency of their solar power generation. Trust in Sunway Solar for your energy storage needs, and experience the benefits of our high-capacity 30KW Solar System. Let us be your partner in building a sustainable future powered by our exceptional products.